---
Try the WHISKING treatment FOR FREE now. Short whisking demonstrations are offered in the Harmónia wellness &spa centre during the day. Or book the full treatment version and spoil yourself with well-deserved relaxation.

---
Whisking

The whisking treatment is brand new at our wellness & spa. It comes originally from Russia and is based on swirling the air with birch, eucalyptus, oak or linden whisks. Experienced sauna masters use various techniques to move air inside a sauna by means of whisks whose released molecules create a pleasant aroma. Once your skin is steamed, the sauna master begins a massage with whisks to get their molecules into your unclogged pores. Every whisking session ends with strong steam gusts. After the treatment, it´s best to refresh oneself with a bucket of cold water or a cold shower and drink enough water.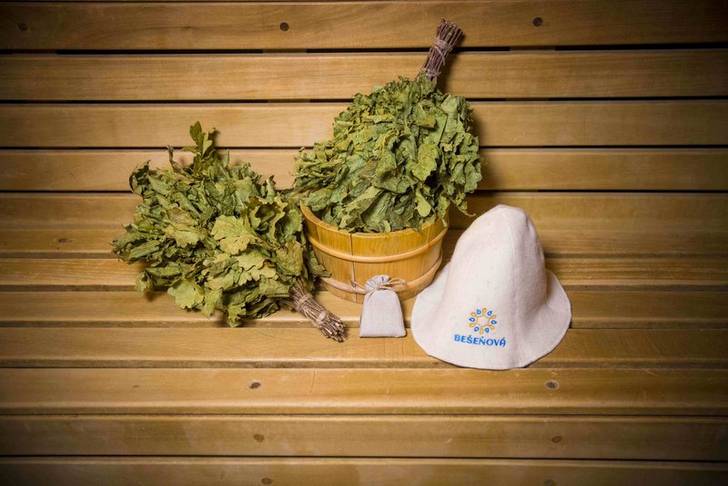 What effects does whisking therapy have?

Whisks cleanse clogged pores, supply the body with vitamins and boost the blood circulation. The treatment is very relaxing and helps heal various diseases such as asthma, bronchitis, gout etc. Birch whisks reduce joint pain, heal inflammations and cleanse the skin. Oak whisks help prevent skin diseases and normalise the blood pressure. Linden whisks are great against flu and headache.
---
Terms:
The whisking ritual in the Russina banya can be booked for one person or a pair.
Book at the wellness centre reception or by phone on ☎ +421 (0)918 998 002​​​​​​​
​​​​​​​Whisking can be booked for every top of the hour from 11:00am to 8:00pm (except 1:00pm an
WHISKING PRICES
Category
Prices for hotel guests
Prices for wellness centre clients
1 person
33 €
36 €
2 people
48 €
54 €
VIP person*
60 €
66 €
Gift voucher **
42 €
42 €
*The VIP whisking treatment includes: 30 min. of whisking, peeling, regenerating Dead Sea cream, 0.3l Hubert sparkling wine
**The gift voucher whisking treatment includes 30 min. of whisking + a 2.5 hour Harmónia wellness &spa centre ticket.
---
Make time for yourself and recharge your batteries in the Sauna World, which offers various kinds of massages