---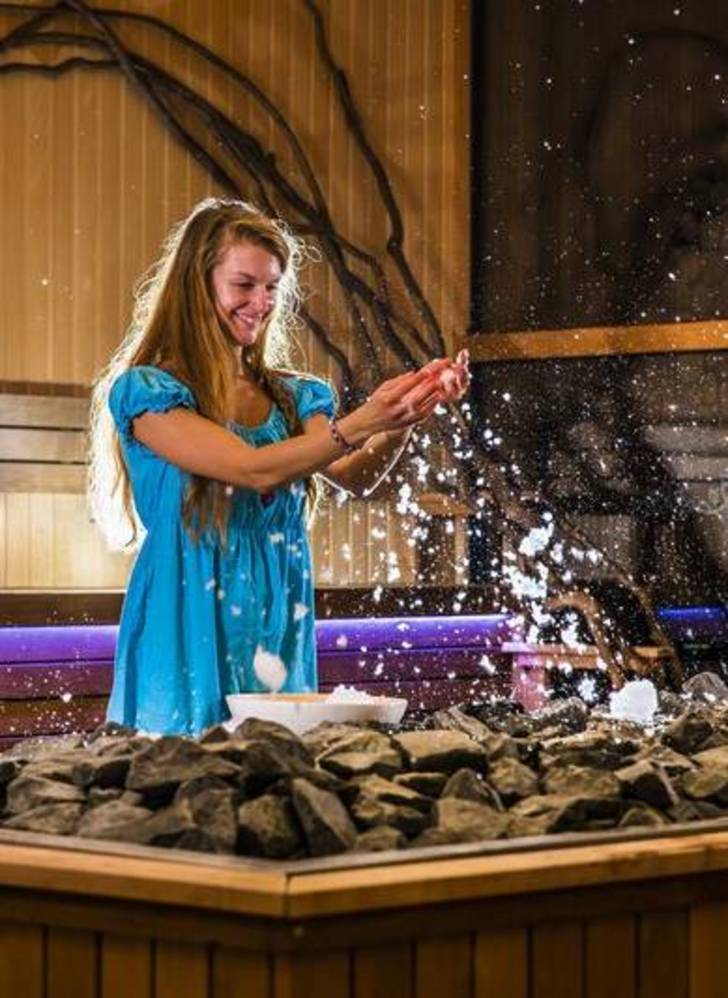 Harmónia wellness&spa
We didn´t feel like going skiing today. After three days of adventures on the pistes, morning Fresh Track, amusing slalom and a fun park, we have decided to relax our bodies. It is freezing outside, the temperatures have sunk to -10°C and the snowfall doesn´t seem to stop. But we want warmth and peace. How about enjoying some saunas? Let´s warm up our bodies, remove toxins and relax our minds.
The choice fell on Bešeňová. We have heard the park offers interesting sauna rituals which make the sauna relaxation more intensive and more interesting. What can be so attractive about staying in a sauna? People are just sweating there, refresh themselves after the session and go back in again after a while.
Well, we can´t stop wandering, though and choose the first ritual – something more peaceful to begin with. It´s aromatherapy and starts at 03:00pm. The treatment is made in a brand new spacious sauna which is called Sauna temple. A big glass door and windows emphasise the unique character of this sauna which is one of its kind in Slovakia. We are sitting down on the medium level to begin more carefully. Charming sauna master Dominika has just arrived so the ritual can begin. We can´t wait!
---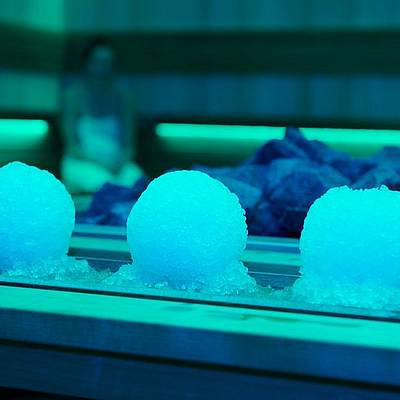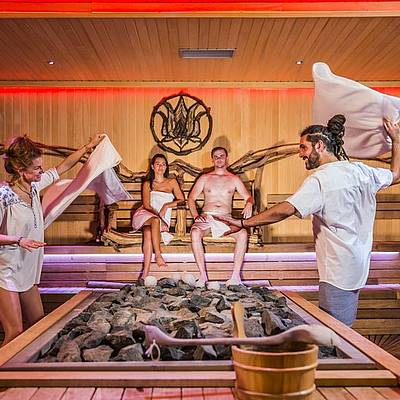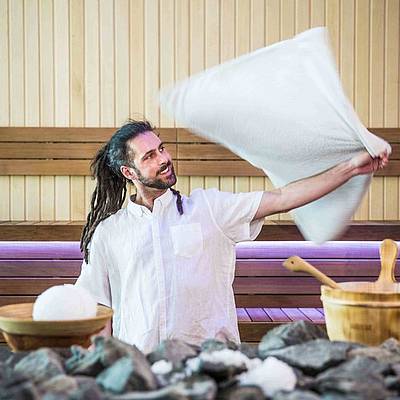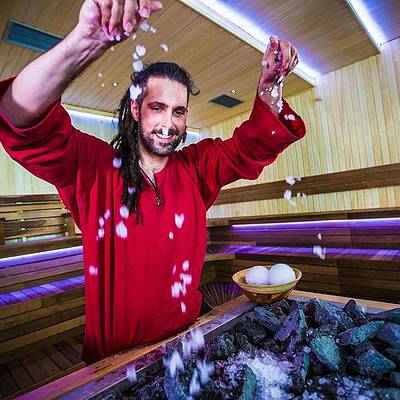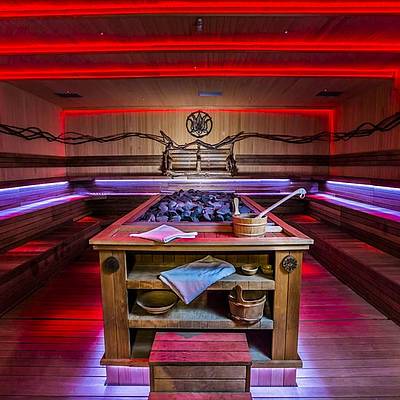 ---
Aromatherapy – sauna relaxation combined with olfactory perception
Based on what we have heard, aromatherapy combines the well-known sauna relaxation effects with aromas. It relaxes the musculoskeletal system, cleanses the airways, has anti-rheumatic effects, helps remove toxins from the body, boosts immunity and prevents the flu. Dominika has brought some ice balls with a natural bio aroma. Today, it is wild thyme, lavender, mint and rosemary. Why ice balls? Because aroma evaporates more slowly when compared with water so we can enjoy it longer. A bucket with water cannot be missing, of course. Dominika pours the water regularly on hot stones to increase humidity in the sauna, which makes us feel warmer. She also swirls hot air by using a towel and a fan to make the sauna experience as intensive as possible for everybody. Her pleasant voice, the great aroma and the rising temperature in the sauna help us relax to the fullest. And we are enjoying it as much as we can.
There is about 80°C in the lowest section of the Sauna temple and about 95°C on the highest level. The humidity is higher when compared to ordinary dry saunas – it reaches 40%. The aromatherapy sauna ritual takes over 10 minutes, which is ideal also for people who can´t stay in a sauna for long. After the session, we set out for cooling showers which are inside an original stone temple. It is actually a path with several jets that spout water of various temperatures. At the end, there is a vitamin bowl full of oranges, grapefruits, limes, lemons and pomegranate seeds waiting for us. One can never get enough vitamins.
---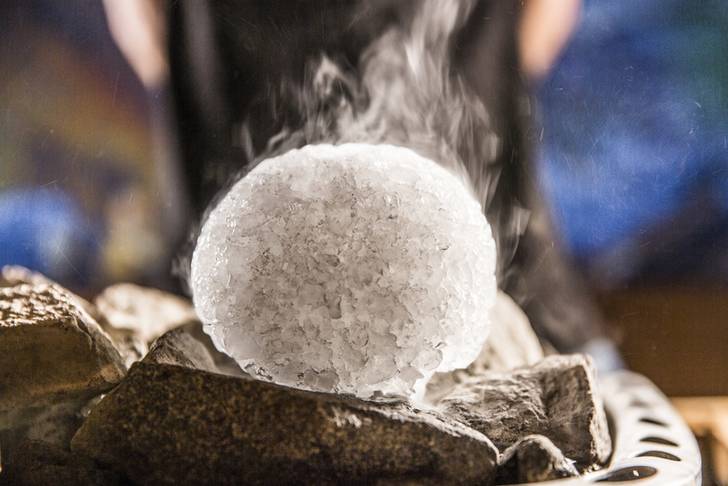 ---
We are looking forward to enjoying another atypical sauna experience. Rejuvenating peeling is scheduled for 04:00pm. Do we, handsome men, need any peeling at all? How funny! But sauna master Dominika is offering this treatment as well so we are heading for a steam sauna. Yes, this ritual takes place in a steam sauna. We are leaving our towels outside and entering the sauna like Adams. There are some Eves too but what we are more interested in is the treatment. Unlike dry Finnish or Swedish saunas, steam saunas are typical for a higher humidity (up to 90%) and a lower temperature (about 50°C). in the first minutes, we let the steam unclog our pores. The humidity is rising and Dominika has prepared a coconut, chocolate and cocoa peeling for us.
The great combination smells beautifully. The wellness centre uses also other peeling sorts such as lavender, poppy seed, citrus. It´s always based on some oil with added abrasive and aroma components. Dominika tells us to apply the peeling onto the skin with circular motions to remove dead skin cells. It is very pleasant and we even feel like tasting the delicious peeling substance. Nobody is watching us so we do. Yummy! It tastes delicious. Everything is natural and edible so we don´t have to worry. It is great that the sauna masters create their peelings themselves.
Their creativity has now limits. We would prefer to eat everything that we see but cannot forget about the original purpose of the peeling. Dominika is making the sauna experience more intense by swirling the moist and hot air with a towel. The ritual ends after ten minutes and the sweet peeling is still on our bodies, being absorbed by the skin. We would rather not wash it away but it would probably look weird if we were walking around covered with a chocolate substance. The ritual is surprisingly pleasant also for us, tough guys who prefer high temperatures and a lower humidity. A vitamin bowl cannot be missing after this treatment again.
---
The Show ritual begins in the Sauna temple at 06:00pm and this is the one we have been looking forward to most. Sauna master Dominika has called Jakub to help her this time. Show rituals have various interesting topics which are prepared by sauna masters and combined with a short performance or made a la freestyle. Today, it is the Feather Fairy. We are entering the temple, sitting down on the lower level for a change and waiting what is going to happen. The temperature reaches pleasant 85°C but is starting to rise slowly. Along with the humidity. Dominika is coming. She is dressed like the Feather Fairy with lacy gloves, a cap and is bringing ice balls again – to increase the humidity and sauna effect intensity. She is just perfect at playing the Feather Fairy. Jakub is helping her by swirling hot air with a towel and sending it to every person inside the sauna. Father Fairy is asking us if she should make some snow and whether we are cold. We tell her to snow and turn the heating up. Another ice ball lands on hot stones and is followed by another fanning round. The temperature is rising and so is the sauna relaxation intensity. Great! We would never expect to laugh in a sauna and have fun. It´s more than clear that sauna masters love their jobs. The ritual takes 15 minutes. That´s enough. Jakub has made us boil and the final round was really intensive. A cooling bath and a vitamin bowl come in handy. We are nestling down in a tepidarium to relax and recharge our batteries for the final treatment.
---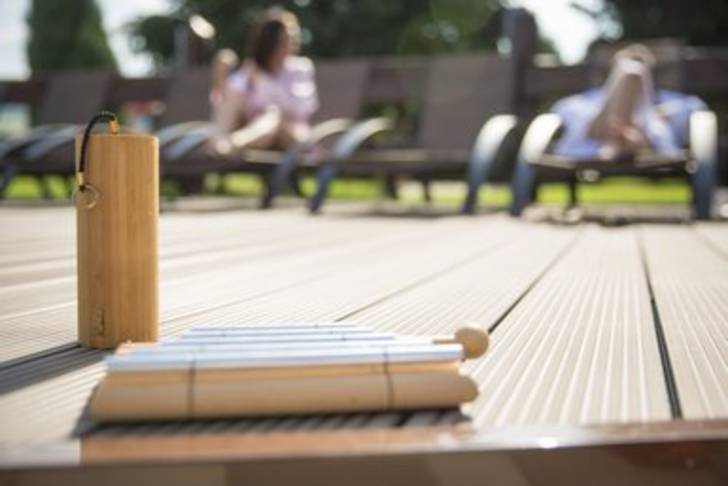 Music therapy begins at 06:45pm and is a very pleasant way how to end day sauna rituals in Bešeňová. The temperature in the sauna temple reaches 50°C but this time, we are not sitting but lying. We have closed our eyes to focus on all sounds produced by strange instruments. Sauna master Dominika relaxes our minds by playing the oldest music instruments in the world. Not the original ones, of course, just their imitations. Wooden bells are clinking, gongs are rumbling and vibrating. There is one more instrument which is difficult to specify but produces pleasing sounds. Dominika is walking around each of us and playing pleasant and relaxing sounds. The vibrations lower the blood pressure and slow down the heart rate. The relaxing ritual at the end of the day is exactly what we have needed.